Augmented Reality Meets Augmented Intelligence
LightGuide's augmented reality (AR) software platform is transforming manual processes by making them more efficient, accurate, and compliant. By projecting digital step-by-step work instructions onto an employee's work surface, LightGuide AR standardizes and error-proofs work. Coupled with 3D sensors and vision cameras, the system prevents and detects errors in real-time, while capturing data and insights on your operator's performance and quality.
Our Quest for Continuous Improvement and Constant Innovation
Learn about the newest updates and enhancements to the LightGuide software platform.
Transform Work Instructions into an Immersive, Intuitive, Projection AR-guided Workflow.
LightGuide Stand-Alone Systems
Every LightGuide system is powered by our LightGuide AR software platform, running on a standard Windows 10 PC, driving one or more high lumen, high-resolution industrial-grade projectors, and interfaced to sensors, cameras, input devices, and torque tools to visualize and error-proof the workflow.
LightGuide Factory Deployment
Upgrade your existing work cells with LightGuide software, bringing the power of projected AR to your factory. LightGuide workstations can power your core operational processes, from part picking to assembly to test, inspection, and training.  We connect to and communicate with any MES, PLC, or SCADA environment, ensuring the data flows seamlessly across the factory network with no latency.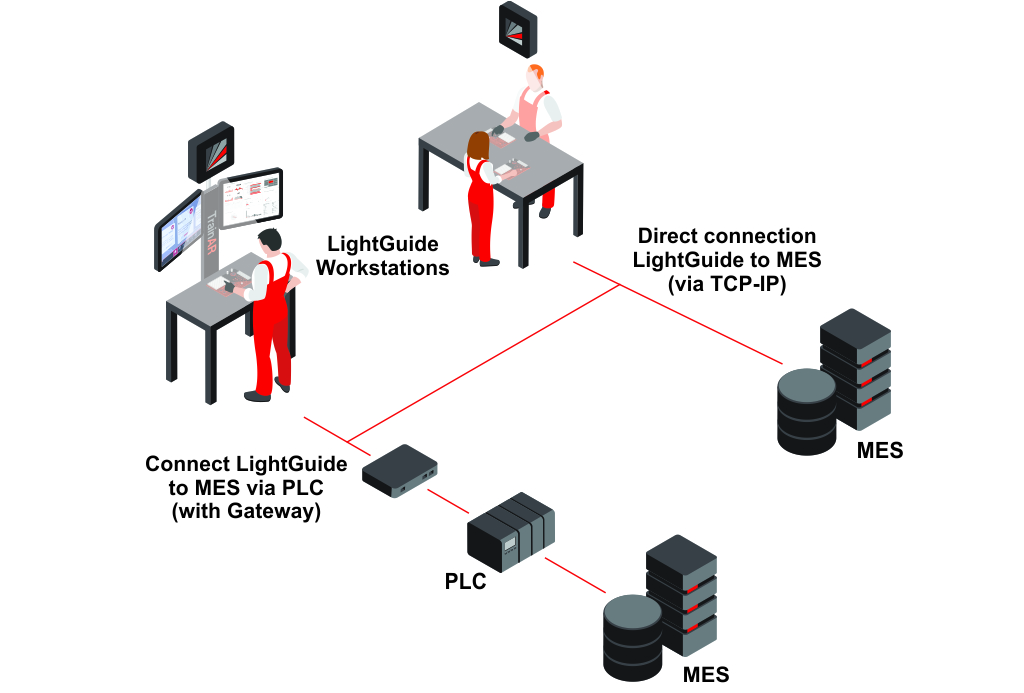 LightGuide Enterprise Connectivity
LightGuide delivers enterprise connectivity for your global manufacturing footprint, with connections to all major web-hosted BI/dashboard environments, enabling full digital traceability and real-time analytics for complex manufacturing processes running anywhere in the world.
Trusted by the World's Most Innovative Companies
LightGuide AR Delivers Proven Results
>90% Improve Quality

>50% Increase Throughput

>30% Accelerate Training