As companies work to balance environmental concerns with business performance, a global consumer electronics leader is taking bold steps to transform its recycling processes by using projected AR to make manual recycling processes safer for employees while improving the quality and efficiency of material recovery efforts for rare earth metals, like cobalt.
Cobalt, a vital component in consumer electronics and batteries, is traditionally sourced from mines associated with ethical and environmental concerns. Recognizing the need to reduce its environmental impact, the company aimed to create a closed-loop supply chain by minimizing its reliance on new cobalt extraction and enhancing its use of recycled electronic materials recovered from its own products.
Challenge
Consumer electronics is one of the fastest-growing waste streams in the world, with over 50 million tons1 of electronic waste generated annually. These discarded electronics contain valuable components and rare earth metals, such as cobalt, tungsten, iron, copper, and gold, that can be recycled and used to manufacture new devices. Containing more than $57 billion2 worth of raw materials, e-waste is an economic gold mine for manufacturers.
However, less than 20% of the world's e-waste is recycled2, and only $10 billion3 in raw materials are recovered each year. Despite its economic value, e-waste is one of the most challenging waste streams to manage due to the complexity of electronic devices, the hazardous nature of materials, and the lack of adequate recycling infrastructure.
Faced with the challenge of safely and efficiently disassembling, separating, and sorting electronics components for maximum material recovery, this leading consumer electronics company needed a way to provide its recycling innovation team with an effective way to disassemble personal tablets and computers by hand. Due to the high variability created by the diverse device models of these devices, innovative work instructions were needed to guide operators through changing workflows. LightGuide was brought in to help the company digitize manual electronics recycling and e-waste management processes, making them safer for human operators while improving the quality and efficiency of recycling processes.
Solution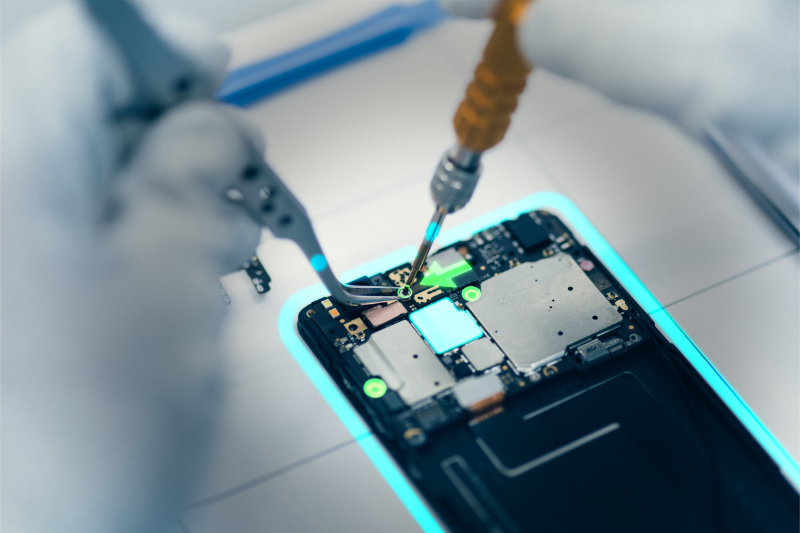 Using LightGuide's projected augmented reality (AR) platform, the company guides workers at its recycling innovation lab through complex disassembly processes for a wide variety of consumer electronics devices by transforming work instructions into visual cues projected directly onto their work surfaces. Due to the high variability created by these diverse waste streams, LightGuide's ceiling mounted SpotGuide AR projectors were deployed to help operators separate components and sort them into the proper recycling containers.
In addition to providing technicians with visual guidance, LightGuide's AR software also provided the company with a way to capture and track valuable process data, such as photos, material weights, and more. This enhanced traceability provided the company with deeper insights into the impact of its sustainability initiatives, enabling them to assess performance, set targets, and drive continuous improvement.
Results
As a global industry leader, this company's dedication to responsible electronic recycling practices demonstrates the power of innovation in creating a positive impact on the planet. By investing in e-waste recycling infrastructure, and technologies like LightGuide's projected AR workflow platform, the company has maximized the quality and efficiency of material recovery efforts while ensuring the highest standards of workplace health and safety for employees.
The standardization of processes has driven safety and quality while keeping materials intact for better recycling. This has resulted in cleaner material streams and improvements in the company's ability to recover valuable materials, such as cobalt. This reduces its reliance on newly mined cobalt and mitigates supply chain disruptions, contributing to a circular economy in which e-waste is minimized and valuable resources are conserved.
These efforts not only contribute to a more sustainable and responsible future but also align with the company's goal of using recycled materials to produce the next generation of smart devices. Through its commitment to sustainable sourcing and innovative electronic recycling practices, the company is driving industry-wide change.
Related Content:
Electronics Recycling & E-Waste Management: A Technological Revolution is Underway
1 Forti V., Baldé C.P., Kuehr R., Bel G. The Global E-waste Monitor 2020: Quantities, flows and the circular economy potential. United Nations University (UNU)/United Nations Institute for Training and Research (UNITAR) – co-hosted SCYCLE Programme, International Telecommunication Union (ITU) & International Solid Waste Association (ISWA), Bonn/Geneva/Rotterdam
2 Kuehr, R, O Deubzer, V Luda, E D'Angelo, and C.P. Baldé. 2022. Global Transboundary E-waste Flows Monitor 2022. Geneva: UNITAR.
3 Forti, Vanessa. 2020. Global electronic waste up 21% in five years, and recycling isn't keeping up. July 10. Accessed November 22, 2022.